Solomon Foot (1802-1866)
Solomon Foot, U.S. Senator from Vermont, was born in Cornwall, Addison County, Vermont, November 19, 1802. He graduated from Middlebury in 1826, was principal of Castleton, Vermont, seminary in 1826-8, tutor in Vermont University in 1827, and in 1828-31 held the chair of natural philosophy in the Vermont academy of medicine, Castleton. He was admitted to the bar in the latter year, and began practice in Rutland, where he lived until his death.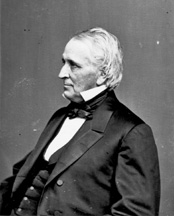 Foot was a member of the Vermont state legislature in 1833, 1836-38, and 1847, speaker of the house in 1837-38 and 1847, delegate to the State constitutional convention in 1836, and state attorney for Rutland in 1836-42. He was then elected to Congress as a Whig, and served from 1843 till 1847. He was an unsuccessful candidate for clerk of the House in 1849. He was then chosen U. S. senator from Vermont, and served from 1851 till his death in 1866, becoming a Republican in 1854. He was chairman of important committees, and was president pro tempore of the Senate during a part of the 36th congress and the whole of the 37th. Senator Foot was prominent in debate, and took an active part in the discussions on the admission of Kansas to the Union in 1858. In the Senate he was recognized as a master of parliamentary law (he was often president pro tempore) and established many customs in the Senate's procedure.
Foot was chosen president of the Brunswick and Florida railroad company about 1854, and visited England to negotiate the bonds of the company. He died in Washington, D. C., 28 March 1866.