Benjamin Fitzpatrick (1802-1869)
Benjamin Fitzpatrick (June 30, 1802 - November 25, 1869) was an American politician, who served as Governor of Alabama and as United States Senator from Alabama as a Democrat.
Benjamin Fitzpatrick was born in Green County, Georgia, to William and Anne Fitzpatrick. At the age of seven he was orphaned, and he moved to Alabama with his brothers, where he attended public schools, receiving a limited education. Fitzpatrick also managed land that his brothers owned on the Alabama River.
He read law in the Montgomery office of Nimrod E. Benson, where he was admitted to the bar in 1821 before he turned 20, commencing practice in Montgomery, Alabama. He was elected solicitor of the Montgomery circuit in 1819 and reelected in 1822. He retired from the practice of law in 1827 due to ill health and became a successful planter on his estate "Oak Grove" in Autauga County. That same year, Benjamin married Sarah Terry Elmore, the daughter of Revolutionary War Veteran John Archer Elmore. Elmore County was named in his honor.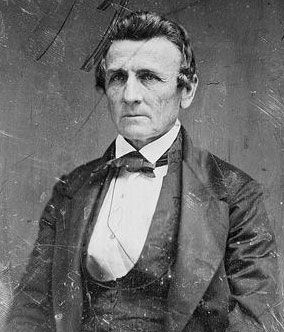 In 1840, Fitzpatrick campaigned for Martin Van Buren, and was awarded with the Democratic Party's nomination for the governorship of Alabama.  He was elected in 1841, serving until 1845 (two terms). During his tenure, the state taxation was restored, Howard College was chartered, and the towns of Troy and Tuskegee were incorporated. His major concern was the state banking system—local abuse and mismanagement had caused substantial bank debts, and the state found itself on the brink of financial ruin because it was liable for the bank's indebtedness.
  In 1844, he retired once again to his Oak Grove plantation, but was appointed in 1848 as a Democrat to the United States Senate to fill the vacancy caused by the death of Dixon H. Lewis and served from November 25, 1848, to November 30, 1849, when a successor was elected.  He was again appointed and subsequently elected to the Senate to fill the vacancy caused by the resignation of William R. King (who had been elected Vice President of the United States) and served from January 14, 1853, to March 3, 1855. He served in this Congress as Chairman of the Committee on Printing and the Committee on Engrossed Bills. He was elected to the Senate again to fill the vacancy caused by the failure of the legislature to elect his own successor on November 26, 1855. In this role he served several times as President pro tempore of the Senate.
In 1860, Fitzpatrick was nominated for vice president of the United States by the wing of the Democratic Party that had nominated Stephen A. Douglas of Illinois for President, but refused the nomination, and ultimately Herschel V. Johnson of Georgia was nominated in his stead.
Fitzpatrick withdrew from the Senate on January 21, 1861, following the secession of his home state, returned to Alabama, and supported the Confederacy. Fitzpatrick did not take a particularly active role in the politics of the Confederacy, but did serve as president of the constitutional convention of Alabama in 1865. He was arrested as a traitor after the Civil War and placed in a northern prison. He was released in time to serve as a member of the 1865 Alabama Constitutional Convention, where he was elected President of the Convention.
Fitzpatrick returned to his plantaion near Wetumpka, Alabama, and died there on Novemeber 25, 1869. He is buried at Oakwood Cemetery in Montgomery, Alabama.