Edward Everett (1794-1865)
Edward Everett (April 11, 1794 - January 15, 1865) was a Whig Party politician from Massachusetts. His brother Alexander Hill Everett was a noted diplomatist and man of letters.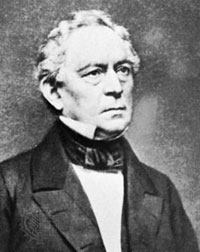 Born in Boston, Massachusetts to the Rev. Margaret Everett and Lucy (Hill) Everett, he graduated from Harvard University in 1811, studied theology under the urging of the Rev. Joseph Stevens Buckminster, and was ordained pastor of the Brattle Street Unitarian Church, Boston, in 1814.
Everett was a professor of Greek literature at Harvard University, an overseer of the University, and its president from 1846 to 1849.
He was elected to the United States House of Representatives and served from March 4, 1825 - March 3, 1835. He declined to be a candidate for renomination in 1834. He then served as Governor of Massachusetts (1836-1840).
Everett was appointed United States Envoy Extraordinary and Minister Plenipotentiary to Britain 1841-1845, declining a commission to China in 1843. He served as president of Harvard University from 1846-1849.
In 1852 he was appointed United States Secretary of State by President Millard Fillmore to fill the vacancy caused by the death of Daniel Webster, and served to March 3, 1853.
He was elected to the United States Senate and served from March 4, 1853, until his resignation, effective June 1, 1854.
Everett was an unsuccessful candidate for Vice President of the United States in the 1860 election on the Constitutional Union ticket.
Everett was considered the nation's greatest orator of his time. He was invited to give the main speech at the dedication of the Soldiers' National Cemetery at Gettysburg, Pennsylvania on September 23, 1863, following the Battle of Gettysburg. He told the organizing committee that he would be unable to prepare an appropriate speech in such a short period of time, and requested that the date be postponed. The committee agreed, and the dedication was postponed until November 19. Almost as an afterthought, David Wills, the president of the committee, asked President Abraham Lincoln to make a "few appropriate remarks".
Everett spoke for two hours, but Lincoln's two-minute followup speech, known as the Gettysburg Address, is one of the most famous speeches in the History of the United States. Everett wrote a note to Lincoln the next day, telling him of his appreciation for the President's brief, but moving, speech: "I should be glad, if I could flatter myself that I came as near the central idea of the occasion in two hours, as you did in two minutes."
He died in Boston, Mass., January 15, 1865, and was interred in Mount Auburn Cemetery, Cambridge, Massachusetts.