Nathan George "Shanks" Evans (1824-1868)
Nathan George "Shanks" Evans (February 3, 1824 - November 23, 1868) was a Lieutenant in the 2nd U.S. Cavalry who became a Brigadier General for the Confederate States of America during the American Civil War.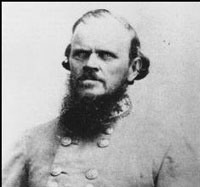 Evans was born in Marion, South Carolina. He attended Randolph-Macon College. After graduation from the U.S. Military Academy in 1848, Evans served on the western frontier with the dragoons and cavalry, before resigning in 1861 to enter Confederate service. He was commissioned a Colonel and commanded a small brigade at the First Battle of Bull Run, where it was said his command went far toward saving the day for the South. During the thick of the fight, he was everywhere, closely followed by an aide carrying a jug of Evans' favorite whiskey.
His brigade was later assigned to guard the upper fords of the Potomac, above Washington. In October 1861, a Union force crossed the river near Leesburg, and at the Battle of Ball's Bluff Evans' command drove the enemy into the Potomac River, inflicting great loss. Evans was promoted to Brigadier General to be effective the day of the battle.
Evans' brigade participated in the battles of South Mountain and Antietam in September 1862 and was assigned to General Joseph E. Johnston's army during the Vicksburg campaign as well as campaigns in North Carolina.
His passion for alcoholic beverages led to constant difficulties with his superiors, and he was subsequently tried and acquitted for drunkenness and later for disobedience of orders. General P.G.T. Beauregard considered Evans incompetent and had him removed from command for a time.
After the war, Evans became a high school principal in Midway, Alabama, where he died in 1868 from lingering effects of a head wound received in battle. He was buried in Tabernacle Cemetery, Cokesbury, South Carolina.
General William Henry Fitzhugh Lee, son of Robert E. Lee, once wrote of Evans:
"'Shanks' Evans, as he was called, was a graduate of the military academy, a native South Carolinian, served in the celebrated old Second Dragoons, and was a good type of the rip-roaring, scorn all-care element which so largely abounded in that regiment. Evans had the honor of opening the fight (First Manassas), we might say fired the first gun of the war."