Ebenezer Dumont (1814-1871)
Ebenezer Dumont was born November 23, 1814, in Vevay, Indiana. Educated at Indiana University in Bloomington, he pursued classical studies and then studied law, was admitted to the bar and began practice in Vevay. He served as a member of the Indiana House of Representatives in 1838 and, from 1839 to 1845, was treasurer of Vevay. In the Mexican War, Dumont was a captain and lieutenant colonel of the 4th Indiana Volunteers.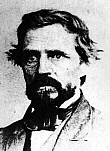 He served as a member of the Indiana House of Representatives from 1850 to 1853 and was a presidential elector for Franklin Pierce in 1842.
Dumont was living in Indianapolis at the outbreak of the Civil War. When the Civil War news struck Indiana, Dumont was one of the first and most fervent speakers at patriotic rallies. On April 27, 1861, he was appointed the first colonel of the 7th Indiana Volunteer Infantry Regiment (a ninety-day regiment that was reorganized as a three-year regiment in September). He saw action with the 7th Infantry at Philippi, (West) Virginia on June 3, 1861, the first land battle of the American Civil War, and at Laurel Hill, Rich Mountain, and Corrick's Ford. Dumont and the 7th Indiana continued in George McClellan's campaign to secure western Virginia for the Union, until the 7ths return to Indiana in August.
When the three-year 7th Indiana was organized in Indianapolis, Dumont was appointed the commanding colonel, but soon was promoted to brigadier general. His brigade fought in (West) Virginia at the battles of Cheat Mountain and Greenbrier River against Robert E. Lee before being transferred to Kentucky in January 1862. In January 1862, he commanded the 17th Brigade of the Army of Ohio and in May opposed John H. Morgan's cavalry at Lebanon, Kentucky. In September 1862, Dumont was given command of the 12th Division of Don Carlos Buell's army during Braxton Bragg's Kentucky invasion. Dumont and the division were in reserve at Frankfort during the Battle of Perryville in October during Bragg's and E. Kirby Smith's invasion of Kentucky. Again, he was active in pursuing the Confederate cavalry raiders until he took sick in December. A part of his command was captured at Huntsville, Tennessee by a force under John H. Morgan.
In December 1862, Dumont went on sick leave and on February 28, 1863, resigned his commission to take his seat in Congress he had won in the fall election of 1862. He was elected as a Unionist to the 38th Congress and reelected as a Republican to the 39th Congress (March 4, 1863-March 3, 1867). While in Congress, he served as Chairman of both, the Committee on District of Columbia (1863-1864) and the Committee on Expenditures in the Department of the Interior (1865-1866).
He served two terms in Congress, choosing not to run for a third term. President Ulysses S. Grant appointed Dumont to the governorship of the Idaho Territory but before Dumont could take the oath of office, he died in Indianapolis on April 16, 1871. Ebenezer Dumont was buried in Crown Hill Cemetery.