Samuel R. Curtis (1805-1866)
Samuel R. Curtis (1805 - December 26, 1866) was an American military officer, most famous for his role in the American Civil War.
Born in Champlain, New York, Curtis graduated from West Point in 1831. He left the army after a year, moved to Ohio, and eventually entered the law and politics. During the Mexican War, he served as military governor of several occupied cities.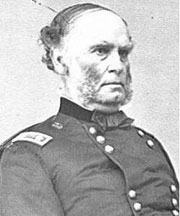 After the Mexican War, he moved to Iowa, and was elected to Congress in 1856 as a Republican. He was a supporter of eventual President Abraham Lincoln, and was considered for a cabinet position; however, when the Civil War broke out, Curtis resigned his Iowa congressional seat to take command as colonel of the 2nd Iowa Volunteer Infantry.
After organizing the chaos in St. Louis, Missouri, Curtis was given command of the Army of the Southwest in 1861 by Major General Henry W. Halleck. Curtis moved to solidify the Union control in Arkansas. His units fought at the Battle of Pea Ridge in 1862, and after a difficult 1,000-mile march in July and August captured Helena, Arkansas, securing yet another victory for the Union. He was promoted to Major General for his success.
Although in September Curtis was given command of the Department of Missouri, Lincoln was soon forced to reassign him, after his abolitionist views led to conflict with the governor of Missouri.
In 1864, he returned to Missouri, fighting against Sterling Price's Missouri Raid of 1864. After the invasion was halted at the Battle of Westport, a battle that cost Price thousands of small arms, and all his cannon, and most of his men, Curtis was given a position until the end of the war in the frontier, commanding the Department of the Northwest.
After the war, he returned to Keokuk, Iowa, where he was involved with the Union advances in railroads, until his death in 1866.
Although most historical works do not focus on him, Samuel Curtis was probably the most successful Union general in the beginning of the Civil War.