Jabez Lamar Monroe Curry (1825-1903)
Jabez Lamar Monroe Curry, a U.S. Representative from Alabama, was born near Double Branches, Lincoln County, Ga., on June 5, 1825. He moved with his father to Talladega County, Ala., in 1838. He graduated from the University of Georgia at Athens in 1843, studied law at Harvard University, was admitted to the bar and commenced practice in Talladega County in 1845.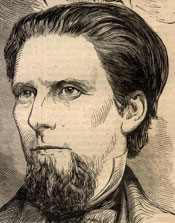 He served in the war with Mexico as a private in the Texas Rangers in 1846, but resigned because of ill health.
He was a member of the Alabama State house of representatives in 1847, 1853, and 1855, and elected as a Democrat as Representative from the Talladega District to the 35th and 36th Congresses, serving from March 4, 1857, to January 21, 1861, when he withdrew. He acknowledged "the true and loyal men in Congress, and in the North, who are ready to lock shields with the South in defense of the Constitution and the Union, which is its creature, and to hope that, in the irrepressible conflict which may be here or elsewhere, they may be able to rescue the Constitution of our country from the polluting touch of those who would destroy it." But he asserted that each State "has the right of secession, the right of interposition for the arrest of evils within its limits," and maintained the sovereignty of the State as his "first and last allegiance".
He was deputy from Alabama to the Provisional Confederate Congress and a Representative in the First Confederate Congress.
During the Civil War served as lieutenant colonel of Cavalry in the Confederate Army.
After the war became a Baptist preacher, chosen president of Howard College, Alabama, in 1865, and professor in Richmond College, Virginia, 1868-1881. He was agent of the Peabody and States Funds from 1881 until his death.
He was appointed Envoy Extraordinary and Minister Plenipotentiary to Spain on October 7, 1885, and served until August 6, 1888, when he resigned. He was appointed Ambassador Extraordinary on special mission to Spain (the coming of age of the King) February 3, 1902.
He died in Victoria, near Asheville, N.C., on February 12, 1903, and is buried in Hollywood Cemetery, Richmond, Va.