Thomas Leonidas Crittenden (1819-1893)
Thomas Leonidas Crittenden was born on May 15, 1819, at Russellville, Kentucky, the son of John L. Crittenden, brother of Confederate General George Bibb Crittenden, and cousin of Union general Thomas T. Crittenden.
He studied law with his father, beginning law practice in Kentucky in 1840. He was elected State Attorney for his District in Kentucky in 1842.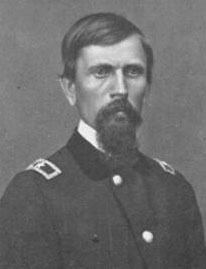 During the Mexican War he as served as an aide to General Zachary Taylor and as colonel of the 3rd Kentucky Volunteer Infantry. After the war, he was appointed by U. S. President Zachary Taylor to be U. S. Consul to Liverpool, England, 1849-1853, after which he returned to law practice in Frankfort, Kentucky. He then became a businessman in Louisville, Kentucky, 1854-1861.
He was appointed Major General of Kentucky State Guard in 1860 and commissioned Brigadier General, USA, Volunteers, on October 27, 1861. When the rebels took up arms in Kentucky, General T. L. Crittenden was empowered to take command, and at the head of the Home Guard started for Muldraugh's Hill and effectively checked the advance of the rebels on Louisville.
He commanded the 5th Division, Army of the Ohio, at Shiloh in July 1862. After Shiloh he was promoted to Major General, USA, Volunteers, on July 17, 1862, and commanded the II Corps in the Army of the Ohio during the Perryville Campaign although his corps was only lightly engaged in the fighting. When William S. Rosecrans assumed command of the army, Crittenden's forces were redesignated the Left Wing of the Army of the Cumberland and were heavily engaged at the Battle of Stones River. (He received a brevet promotion in 1867 to brigadier general of regulars for his service at Stones River.) The Army of the Cumberland was reorganized and Crittenden's corps was once again renamed, this time the XXI Corps. He led the corps through the Tullahoma Campaign and at the Battle of Chickamauga. Crittenden and fellow corps commander Alexander McDowell McCook were blamed for the defeat and relieved of command, but both were later exonerated and acquitted of any charges.
He was removed from command, XXI Corps, Army of the Cumberland, in the fall of 1863 and, with his military career in trouble, transferred to the Army of the Potomac in 1864. In 1864 he assumed command of the 1st Division, IX Corps, and led it in the Eastern Theater during the Battle of Spotsylvania Court House and the Battle of Cold Harbor, before resigning on December 13, 1864. He requested to be relieved of command on June 9, 1864. He resigned his Volunteers commission on December 13, 1864.
Following the war, he was appointed Kentucky State Treasury in January 1866. By request of U. S. President Andrew Johnson, he returned to U. S. Army service as Colonel, 32nd Infantry, USA, on July 28, 1866. He received a brevet promotions as Brig. Gen. U.S.A. on March 2 1867. He transferred to 17th Infantry, USA, in 1869, where he served until he resigned his commission in 1881.
He died on October 23, 1893, at Annandale, Staten Island, New York, and is buried in the City Cemetery, Frankfort, Kentucky