John Covode (1808-1871)
John Covode, a Representative from Pennsylvania, was born near West Fairfield, Westmoreland County, Pa., on March 17, 1808. He attended the public schools, engaged in agricultural pursuits, manufacturing, and transportation, and was largely interested in the coal trade.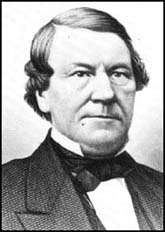 An opponent of slavery, Covode was elected as a Whig to the 34th Congress, and as a Republican to the 35th, 36th, and 37th Congresses (March 4, 1855-March 3, 1863. He served as chairman, Committee on Public Expenditures (37th Congress) and was a delegate to the Union National Convention at Philadelphia in 1866.
Covode was associated with the group known as the Radical Republicans and strongly supported the Freeman's Bureau, the Civil Rights Bill and the Reconstruction Acts.
He was elected to the 40th Congress (March 4, 1867-March 3, 1869), where he served as chairman, Committee on Public Buildings and Grounds. Covode clashed with President Andrew Johnson and voted for his impeachment in 1868.
He contested with Henry D. Foster the election to the 41st Congress, neither being sworn pending the contest, as no credentials were issued by the Governor. On February 9, 1870, the House declared him duly elected, whereupon he qualified and served until his death in 1871. He was not a candidate for reelection in 1870.
He died in Harrisburg, Pa., on January 11, 1871, and is buried in Methodist Episcopal Cemetery, West Fairfield, Pa.