David Clopton (1820-1892)
David Clopton, a Representative from Alabama was born in Putnam County, near Milledgeville, Ga., on September 29, 1820. He attended the county schools and Edenton Academy in Georgia and graduated from Randolph-Macon College, Boydton, Va., in 1840. He studied law, was admitted to the bar in 1841, and commenced practice in Milledgeville, Ga.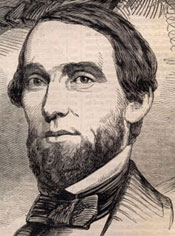 He moved to Tuskegee, Ala., in 1844, and continued the practice of his profession. He was elected as a Democrat to the 36th Congress and served from March 4, 1859, to January 21, 1861, when he withdrew. In Congress he was a strong supporter of states' rights the reserved power of secession as the only remedy of sectional differences. "We do not desire war," said he, in a speech delivered during the struggle for the Speakership of the 36th Congress; "the policy of the South would be peace. But whenever this Government, in the opinion of the Southern people, shall have failed to accomplish the ends for which it was instituted, the Southern States, exercising their right, will abolish it, and institute a new Government, laying its foundation in such principles, and organizing it in such forms, as to them shall seem most likely to effect their safety and happiness. Whenever they see proper to exercise these rights, then, if war comes, it must come from the North. If war must come, let it come."
During the Civil War Clopton enlisted as a private in the Confederate Army in the Twelfth Alabama Infantry for one year.
He was elected as a Representative to the First and Second Confederate Congresses and served from 1862 to 1864. He was appointed judge of the supreme court of Alabama October 30, 1884, and served until his death in Montgomery, Ala., February 5, 1892. He is buried in Oakwood Cemetery.