Patrick Ronayne Cleburne (1828-1864)
Patrick Ronayne Cleburne (March 16 or 17, 1828 - November 30, 1864) was a Major General in the Confederate States Army during the American Civil War and a resident of the State of Arkansas.
Early Life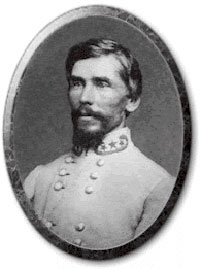 Cleburne was born in Ovens, County Cork, Ireland, the second son of Dr. Joseph Cleburne, a solid, middle-class physician. Patrick's mother died when he was eighteen months old and he was an orphan at fifteen. He followed his father into the study of medicine but failed his entrance exam to Trinity College of Medicine in 1846. In response to this failure he enlisted in the 41st Regiment of Foot of the British Army.
Three years later Cleburne bought his discharge and emigrated to the United States with two brothers and a sister. After spending a short time in Ohio he settled in Helena, Arkansas, where he obtained employment as a pharmacist and was readily accepted into the town's social order. By 1860 he had become a naturalized citizen, begun the practice of law, and was very popular with the local residents. During this time he became close friends with Thomas C. Hindman, another future Confederate general from Helena.
Service in the Confederate Army
When the secession crisis broke out Cleburne sided firmly with the southern states. His choice was not due to any love of slavery, which he disliked, but out of affection for the Southern people who had adopted him as one of their own, and out of a distrust of centralized governments. When war threatened, Cleburne joined the local company (the Yell Rifles) as a private soldier and was quickly elected captain. He rose meteorically through the ranks and was promoted to brigadier general on March 4, 1862.
Cleburne served at the Battle of Shiloh, the Battle of Perryville, was wounded in the face at the Battle of Richmond (Kentucky), and was appointed major general soon after the Battle of Murfreesboro.
During the campaigns of 1863 in Tennessee, General Cleburne became more and more outspoken about the incompetence of the commander of the army General Braxton Bragg, which may have retarded his advancement within the army. During this time Cleburne and his soldiers played a critical role at the Confederate victory at the Battle of Chickamauga with a rare night assault and probably saved the Army of Tennessee from utter destruction by holding off a much larger United States Army at both Tunnel Hill on Missionary Ridge at the Battle of Chattanooga and at the Battle of Ringgold Gap in northern Georgia. Cleburne and his troops received an official thanks from the Confederate Congress for their actions during this campaign.
Cleburne's strategic utilization of terrain, ability to hold ground where others failed, and his ability to use his smaller force to stymie the movements of the enemy earned him his fame during this time and gained him the nickname "Stonewall of the West". Federal troops were quoted as dreading seeing the flag of Cleburne's Division across the battlefield from them.
It became obvious to Cleburne that the Confederate States were losing the war due to the drain on manpower and resources that they were facing. In 1864 he dramatically called upon the leadership of the Army of Tennessee and put forth a proposal to emancipate slaves and enlist them in the Confederate Army to secure Southern independence. This proposal was met with extreme hostility and was officially suppressed on order of Confederate President Jefferson Davis. Cleburne would find his military career stalled from this point on and he was passed over for advancement to corps commander.
Death and legacy
Prior to the campaigning season of 1864, Cleburne became engaged to Susan Tarleton of Mobile, Alabama. Their marriage was never to be as Cleburne was killed during an ill conceived assault, which Cleburne opposed, on Union fortifications at the Battle of Franklin, just south of Nashville, Tennessee, on November 30, 1864. He was last seen advancing on foot toward the Union entrenchment with his sword raised after his horse was shot out from under him. Confederate war records indicate he died of a shot to the abdomen.
Cleburne's remains were laid to rest at St. John's Church near Mount Pleasant, Tennessee, where they remained for six years. In 1870 he was disinterred and returned to his adopted hometown of Helena, Arkansas, with much fanfare. (His specific location of interment is in dispute. Various sources claim Maple Hill Cemetery, Magnolia Cemetery, and Evergreen Cemetery in Helena.)