Clement Claiborne Clay, Jr. (1816-1882)
Clement Claiborne Clay, Jr., (son of Clement Comer Clay), a Senator from Alabama was born in Huntsville, Alabama, on December 13, 1816. He graduated from the University of Alabama at Tuscaloosa in 1834 and from the law department of the University of Virginia at Charlottesville in 1839. He was admitted to the bar and commenced practice in Huntsville, Ala., in 1840.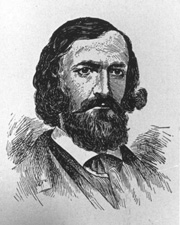 He became a member of the Alabama House of Representatives 1842, 1844, 1845 and a judge of the county court of Madison County 1846-1848. An unsuccessful candidate for election in 1850 to the 32nd Congress, he was elected as a Democrat to the United States Senate to fill the vacancy in the term commencing March 4, 1853, caused by the failure of the legislature to elect. He was reelected in 1858 and served from November 29, 1853, to January 21, 1861, when he withdrew from Congress due to the looming Civil War. He was chairman of the Committee on Commerce (35th and 36th Congresses).
He became a member of the Confederate Senate 1861-1863. He was also a diplomatic agent of the Confederate States. At the close of the war he was arrested and imprisoned in Fortress Monroe in 1865. When released, he settled on his plantation in Jackson County, Ala., and devoted himself to agricultural pursuits and to the practice of law.
He died at 'Wildwood,' near Gurley, Madison County, Alabama, on January 3, 1882, and was buried in Maple Hill Cemetery, Huntsville, Alabama.