Joshua Lawrence Chamberlain (1828-1914)
Joshua Lawrence Chamberlain (September 8, 1828 - February 24, 1914) was a college professor and a highly-respected officer in the United States Army during the American Civil War, reaching the rank of major general. He was also a Medal of Honor winner, and served as a Republican Governor of Maine for four terms. He also served on the faculty and as president of Bowdoin College.
Early life
Joshua Lawrence Chamberlain was born in Brewer, Maine. He lived near Harriet Beecher Stowe and was a visitor in her home and heard her recite passages from Uncle Tom's Cabin. In time, he developed strong abolitionist views. Chamberlain entered Bowdoin College in Brunswick, Maine, in 1848 and graduated in 1852. He was a member of Phi Beta Kappa. He married Fanny Chamberlain, daughter of a clergyman, in 1855, and they had five children, two of whom died in infancy. Chamberlain studied for three additional years at Bangor Theological Seminary in Bangor, Maine, returned to Bowdoin and began a career in education as a professor of rhetoric. He eventually went on to teach every subject in the curriculum but mathematics. He was fluent in nine languages other than English: Greek, Latin, Spanish, German, French, Italian, Arabic, Hebrew and Syriac.
Civil War service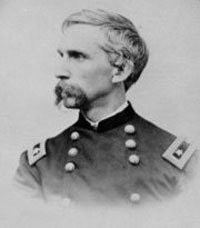 Chamberlain's great-grandfathers were soldiers in the American Revolutionary War and his grandfather had served during the War of 1812. His father also had served during the abortive Aroostook War of 1839. Chamberlain himself was not trained in military science, but felt a strong desire to serve his country.
At the outbreak of the American Civil War, Chamberlain wished to enlist, but the Bowdoin College administration felt that he was too valuable to the college faculty. Chamberlain asked for a leave of absence (supposedly to study languages for two years in Europe), but then promptly enlisted and received a commission as lieutenant colonel of the 20th Maine Volunteer Infantry Regiment, part of the Union Army of the Potomac.
He fought with the regiment at the Battle of Fredericksburg, Antietam, and at the Battle of Chancellorsville, where he was promoted to colonel of the regiment upon the promotion of its first colonel, Adelbert Ames. Chamberlain's younger brother, Thomas Chamberlain, was also an officer of the 20th Maine.
Chamberlain achieved fame at the Battle of Gettysburg, where his valiant defense of Little Round Top became the focus of many publications and stories, including Michael Shaara's Pulitzer Prize-winning novel, The Killer Angels, and the movie based on that novel, Gettysburg (in which Chamberlain was played by actor Jeff Daniels, who also played him in the movie based on Jeff Shaara's book, Gods and Generals). Sent to defend the hill by Col. Strong Vincent, Chamberlain found himself and the 20th Maine at the far left end of the Union line, with the 83rd Pennsylvania, 44th New York, and 16th Michigan infantry regiments to their right. The men from Maine waited until troops from the 15th Alabama regiment (under Colonel William C. Oates) charged up the hill, attempting to flank the Union right. Time and again they struck, until the 20th Maine was almost doubled-back upon itself. With many casualties and ammunition running low, Col. Chamberlain recognized the dire circumstances and ordered his right wing (which was now looking southeast, compared to the rest of the regiment, which was facing west) to swing down like a door. From his report of the day: "At that crisis, I ordered the bayonet. The word was enough."
The 20th Maine charged down the hill, using an unusual tactical maneuver of having the extreme left wing wheel continually to make the charging line swing like a hinge thus creating a simultaneous frontal assault and flanking maneuver, capturing many of the Confederate soldiers and successfully saving the flank.
Col. Chamberlain was slightly wounded in the foot at that battle by a spent bullet. Developing malaria in 1863, Chamberlain was taken off of active duty until he recovered. He returned to the Army of the Potomac in May 1864, and was promoted to brigade commander shortly before the Battle of Petersburg. There, in an action at Rives' Salient, Chamberlain was shot through the right hip and groin. The wound was considered mortal by the division's surgeon, who predicted he would perish (which was correct, but not for another 50 years). His death was reported in the Maine newspapers. General Ulysses S. Grant gave Chamberlain a battlefield promotion to brigadier general; some sources believe this was the only such promotion ever given by Grant. Not expected to live, Chamberlain displayed surprising will and courage, and was back in command by November. Although many, including his wife Fanny, urged Chamberlain to resign, he was determined to serve through the end of the war.
Given command of the 1st Brigade of the 1st Division of V Corps, Chamberlain continued to act with courage and resolve. On March 29, 1865, Chamberlain's brigade participated in a major skirmish on the Quaker Road during Grant's final advance that would finish the war. Despite losses, another wound (in the left arm and chest), and nearly being captured, Chamberlain was successful and brevetted to the rank of major general by President Abraham Lincoln.
In all, Chamberlain served in twenty battles and numerous skirmishes, and was wounded six times.
Incident at Appomattox
Chamberlain was responsible for one of the most poignant scenes of the Civil War at the April 1865 surrender of Lee's Army of Northern Virginia at Appomattox Court House. Gen. Grant placed Chamberlain in charge of receiving the surrender of Confederate weapons and battle flags. As the conquered Confederate soldiers marched down the road to surrender their arms and colors, Chamberlain, without orders or permission, ordered his men to come to attention and "carry arms" as a show of respect. Chamberlain described what happened next:
"The gallant John B. Gordon, at the head of the marching column, outdoes us in courtesy. He was riding with downcast eyes and more than pensive look; but at this clatter of arms he raises his eyes and instantly catching the significance, wheels his horse with that superb grace of which he is master, drops the point of his sword to his stirrup, gives a command, at which the great Confederate ensign following him is dipped and his decimated brigades, as they reach our right, respond to the 'carry'. All the while on our part not a sound of trumpet or drum, not a cheer, nor a word nor motion of man, but awful stillness as if it were the passing of the dead".
Chamberlain's salute was unpopular with many in the north, but he defended his action in his memoirs, The Passing of the Armies. Many years later, Gordon, in his own memoirs, called Chamberlain "one of the knightliest soldiers of the Federal Army."
Post-war career
Chamberlain left the army soon after the war ended, going back to his home state of Maine, and was elected and served as Governor of Maine for four terms. After leaving political office, he returned to Bowdoin College. In 1871, he was appointed president of Bowdoin and remained in that position until 1883, when he was forced to resign due to ill health from his war wounds.
To the end of his life, Chamberlain was active in the Grand Army of the Republic and made many return visits to Gettysburg, giving speeches at soldiers' reunions. He served as Surveyor of the Port of Portland, Maine, a Federal appointment, and engaged in business activities, including real estate dealings in Florida. Chamberlain also wrote several books about Maine, education, and his Civil War memoir, The Passing of the Armies.
In 1893 Chamberlain was awarded the Medal of Honor for his actions at Gettysburg. The citation commends him for his: "Daring heroism and great tenacity in holding his position on the Little Round Top against repeated assaults, and carrying the advance position on the Great Round Top".
Joshua Lawrence Chamberlain died of his lingering wartime wounds in 1914 at Portland, Maine, and is buried in Pine Grove Cemetery, Brunswick, Maine.