John F. Buford (1826-1863)
John F. Buford (March 4, 1826 - December 16, 1863) was an American cavalry officer during the American Civil War. He was one of the main reasons for the Union victory at the Battle of Gettysburg.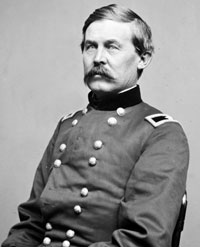 Buford was born in Kentucky but raised in Rock Island, Illinois. He graduated in the 1848 class of West Point, and fought with the dragoons until the Civil War broke out, when he returned to the East from his post at Utah. Buford was regarded as a man who drove himself too hard, which might have contributed to his success.
Buford was given his first position in 1862, under Major General John Pope. He was given the Reserve Cavalry Brigade, which fought with distinction at the Battle of 2nd Bull Run. Buford personally led a charge late in the battle, but was badly wounded in the knee and left for dead. He returned, though, and served as a cavalry "advisor" to Maj. Gens. George B. McClellan and Ambrose E. Burnside. Under Maj. Gen. Joseph Hooker, however, Buford was given the Reserve Brigade again, and he helped introduce the dragoon technique of fighting while dismounted.
After the Battle of Chancellorsville, Maj. Gen. Alfred Pleasonton was given command of the Cavalry Corps, although Hooker later agreed that Buford would have been the better choice (Pleasonton was too flashy and rather incompetent as a cavalry leader). Buford's division was the first to arrive at Gettysburg, Pennsylvania, and successfully held off Maj. Gen. Henry Heth's Confederate division so that Maj. Gen. John F. Reynolds' U.S. I Corps could hold the high ground west of town. Afterwards, Buford's tired troopers were (wrongly, as it turns out) sent to Emmitsburg, Maryland to resupply and refit. They saw no more action at the eventual Gettysburg victory, of which Buford had been a key component.
Buford was stricken with typhoid fever and died in December 1863. He was one of the ablest cavalry officers in the Union Army; in fact, most historians would agree that only Philip Sheridan even competed with him as the best cavalry officer in the Army of the Potomac. Had he been given command of the Cavalry Corps, the course of the war in the East (so hampered by bad intelligence) may have been totally changed.