John C. Breckinridge (1821-1875)
14th vice president of the United States (1857-61), unsuccessful presidential candidate of Southern Democrats (November 1860), and Confederate officer during the American Civil War (1861-65).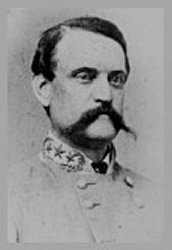 Descended from an old Kentucky family distinguished in law and politics, Breckinridge was the only son of Joseph Cabell Breckinridge and Mary Clay Smith.
Graduating from Centre College in Georgetown, Kentucky, he studied law at Princeton University and Transylvania University. He became an attorney and began his political career in 1849 as a member of the state legislature. In 1851 he was elected to the United States House of Representatives.
During this troubled antebellum period, he established his reputation as a faithful Democrat, and when his party nominated James Buchanan of Pennsylvania for president in 1856, Breckinridge was a natural choice to balance the ticket between North and South. Once in office, however, Buchanan and Breckinridge—at 36 the youngest vice president in American history—were unable to fend off the sectional conflict. Challenged by the newly formed Republican Party, which resisted extension of slavery into the territories, the Democratic Party broke apart at its national convention in the summer of 1860. The Northern wing nominated Stephen A. Douglas on a platform favouring the doctrine of popular sovereignty, whereby the people of each territory would decide whether to allow slavery within their region's boundaries, while the Southerners chose Breckinridge on a separate ticket demanding federal intervention to protect slave holdings. Breckinridge insisted that he was not anti-Union but held that slavery could not be banned in a territory until it had become a state. Defeated in the November election by Republican Abraham Lincoln, Breckinridge succeeded John J. Crittenden as United States senator from Kentucky in March 1861 but resigned later that year.
He worked for accommodation and compromise, but after Confederate forces fired on Fort Sumter, South Carolina (April 12), in the first engagement of the American Civil War, he maintained that the Union no longer existed and urged Kentucky to feel free to secede (it temporarily remained neutral).
His formal expulsion from the Senate in December was a meaningless gesture because he had already been commissioned a brigadier general in the Confederate Army in November.
After the Battle of Shiloh (April 6-7, 1862), in which he commanded the reserve, he was promoted to the rank of major general and thereafter took part in many campaigns, including Vicksburg (June 1863), the Wilderness (May 1864), and Shenandoah Valley (1864-65).
In the final months of the war, Breckinridge served as Confederate secretary of war, and at the end of the hostilities he fled to England. After a self-imposed exile of three years, he returned to resume his law practice in Lexington, where he died seven years later. (Encyclopaedia Britannica)