Frank P. Blair, Jr. (1821-1878)
Francis Preston Blair, Jr. (February 19, 1821 - July 9, 1875) was an American politician.
Francis Blair was born on February 19, 1821, in Lexington, Kentucky. He was the son of Francis Preston Blair and the brother of Montgomery Blair. He attended schools in Washington, D.C., graduated from Princeton University in 1841, and studied law at Transylvania University. After his admission to the bar in Lexington, he went on to practice in St. Louis in 1842.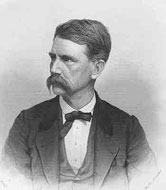 Blair participated in the Mexican War and was appointed attorney general for the New Mexico Territory after it was secured by General Stephen W. Kearny. A personal and political friend of Thomas Hart Benton, he became known for his views opposing slavery. He also was an outspoken Free-Soiler and was elected to the United States House of Representatives in 1852. He was defeated in 1858 but reelected in 1860.
Immediately after South Carolina's secession in December 1860, Blair, believing that the southern leaders were planning to carry Missouri into the movement, began active efforts to prevent it and personally organized and equipped a secret body of 1000 men formed out of the paramilitary Wide Awakes organization to be ready for the emergency. When hostilities became inevitable, acting in conjunction with Captain (later General) Nathaniel Lyon, he suddenly transferred the arms in the Federal arsenal at St Louis to Alton, Illinois, and a few days later (May 10, 1861) surrounded and captured a force of state guards which had been stationed at Camp Jackson in the suburbs of St Louis with the intention of seizing the arsenal. This action gave the Federal cause a decisive initial advantage in Missouri but also inflamed secessionist sentiments in the state due to the St. Louis Massacre. Blair was promoted brigadier-general of volunteers in August 1862 and a major-general in November 1862. He commanded the 1st Brigade, which consisted of the 13th Illinois Infantry, the 29th, 30th, 31st, and 32nd Missouri Infantries, the 58th Ohio Infantry, 4th Company, Ohio Light Artillery, and Company C, 10th Missouri Cavalry.
In Congress, he served as chairman of the important Military Affairs Committee. In the US Army, he commanded a division in the Vicksburg campaign and in the fighting about Chattanooga, and was one of William T. Sherman's corps commanders in the final campaigns in Georgia and the Carolinas.
At the close of the war, Blair, having spent much of his private fortune in support of the Union, was financially ruined. In 1866 like his father and brother he opposed the Congressional Reconstruction policy, and on that issue left the Republican party. He was the unsuccessful Democratic candidate for vice president in 1868, running with Horatio Seymour. In 1871 Blair was chosen by the Missouri Legislature as a United States Senator, but he was defeated for reelection in 1873. During the same year he was stricken with paralysis, from which he never recovered. Blair died on July 9, 1875.
In 1899, the state of Missouri donated a marble statue of Blair to the U.S. Capitol's National Statuary Hall Collection.