George Wythe Baylor (1832-1916)
George Wythe Baylor, Confederate military officer and Texas Ranger, the son of United States Army surgeon John Walker Baylor, was born in Fort Gibson, Cherokee Nation, on August 2, 1832. His father died in January 1834.
On June 5, 1860, Baylor, then living in Weatherford with John R. Baylor and others, ran down a party of Indian raiders on Paint Creek in Parker County and killed and scalped nine of them. Baylor is reputed to have raised the first Confederate flag in Austin.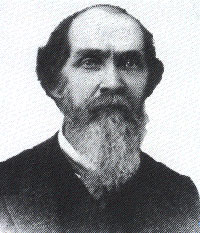 He was commissioned a first lieutenant in Company H of the Second Cavalry, John Robert Baylor's Arizona Brigade, and served as regimental adjutant before resigning to become senior aide-de-camp to Gen. Albert Sidney Johnston in August or September 1861.
After Johnston's death at the battle of Shiloh, Tennessee, on April 6, 1862, Baylor returned to Texas and was elected lieutenant colonel and commander of the Second Battalion of Henry H. Sibley's army. When the battalion merged with the Second Cavalry regiment of the Arizona Brigade, Baylor was elected its colonel. He also commanded a regiment of cavalry during the Red River campaign of 1864 and was commended for gallantry at the battles of Mansfield and Pleasant Hill.
On April 6, 1865, at the headquarters of Gen. John B. Magruder, in the Fannin Hotel in Galveston, Baylor quarreled with and killed fellow staff officer John Austin Wharton. Their fight was said to have been about "military matters," specifically the reorganization of the Trans-Mississippi Department of the Confederate States. Wharton reportedly slapped Baylor's face and called him a liar, whereupon Bayor drew his revolver and shot the unarmed Wharton. Baylor later said that the incident had been a "lifelong sorrow" to him.
After the Civil War, when Lt. John B. Tays, commander of Company C, Frontier Battalion of Texas Rangers in El Paso, resigned to enter the customs service, Baylor was commissioned a first lieutenant and appointed to take his place. At this time, according to Walter Prescott Webb, Baylor "was in his prime, forty-seven years of age, six feet two inches, a fine type of the frontier gentleman. He had a fair education, a flair for writing for newspapers and an inclination to fill his reports with historical allusions."
Baylor left San Antonio on August 2, 1879, with his wife, two young daughters, and a sister-in-law, riding in an ambulance and with two wagons full of provisions and household goods, the latter including a piano and a game cock and four hens. The caravan, guarded by Sgt. James B. Gillett and five other rangers, was forty-two days on the road to Ysleta, where Baylor established his headquarters.
Walter Prescott Webb, The Texas Rangers, a Century of Frontier Defense, writes: "On August 2, 1879, Lieutenant Baylor set out from San Antonio with his wife and two young daughters for the six-hundred-mile trip to El Paso. A large wagon drawn by mules hauled a square piano, other household goods, and on the rear a family of game chickens (which he liked to eat, not fight), consisting of a rooster and four hens. A second wagon carried rations for the men and provender for the animals. Mrs. Baylor, her sister, and the two girls, aged four and fourteen, occupied a mule-drawn hack or ambulance; two men on their way to New Mexico followed in a two-wheeled cart. This party, protected by six mounted Texas Rangers, one of whom was Sergeant J. B. Gillett, spent forty-two days on the road, arriving at Ysleta in September. There they were joined by nine Rangers of Tays' Company, and there they made headquarters for a number of years. At the time Lieutenant Baylor was in his prime, forty-seven years of age, six feet two inches, a fine type of the frontier gentleman. He had a fair education, a flair for writing for newspapers, and an inclination to fill his official reports with historical allusions. Though a courageous individual fighter, he lacked reserve, was a poor disciplinarian, and an indifferent judge of men."
Baylor opened his campaign against raiding Apaches, whom he often pursued beyond the Rio Grande, in cooperation with Mexican officials. Soon after arriving on the border Baylor "generously extended" to the Mexican government "the privilege of coming over on our side and killing all the Reservation Indians" they could find. Through the rest of 1879 and most of 1880 Baylor's rangers were occupied in the pursuit of the Mescalero Apache chief Victorio and his band, an endeavor that proved largely ineffective. In September 1880 Baylor was transferred and promoted to captain of Company A. In 1882 he was promoted to major and given command of several ranger companies. During this period he was active in the fence-cutting conflict in Nolan County.
Sergeant James B. Gillett's, Six Years with the Texas Rangers, writes: "Baylor was one of the best shots with firearms I ever saw. He killed more game than almost the entire company put together. When we first went out to El Paso he used a Winchester rifle, but after the first Indian fight he concluded it was too light and discarded it for a .45-70 Springfield sporting rifle. He always used what he called rest sticks; that is two sticks about three feet long the size of one's little finger. These were tied together about four or five inches from one end with a buckskin thong. In shooting he would squat down, extend the sticks an arm's length out in front of him with the longer ends spread out tripod-fashion on the ground. With his gun resting in the fork he had a perfect rest and could make close shots at long range. He always carried these sticks in his hand and used them on his horse as a quirt. In those days I used to pride myself on my shooting with a Winchester, but I soon found that Lieutenant Baylor had me skinned a mile when it came to killing game at long distance. I never could use rest sticks, for I always forgot them and shot offhand."
Webb goes on to say that Baylor fought the last Indian battle on Texas soil. Chief Victorio of the Apaches slipped the reservation in New Mexico in the fall of 1879 with 125 warriors and a hundred women and children. Webb said, with some understatement, "The old Apache's knowledge of the mountains and of the location of water, grass, and wood, and his ability as a commander made him formidable and dangerous to Americans and Mexicans."
Baylor's Rangers tracked and chased various groups of marauding Apache in and out of Mexico and worked with the U.S. Army out of Fort Davis. General Grierson, the famous Civil War cavalry officer, was in command. The hunt for Victorio went on for most of a year. Neither the American nor Mexican governments could ignore Victorio's attacks and atrocities. Small parties of Americans and Mexicans were at risk all over the area, and Baylor spent much of his time going to the scene of small to medium sized massacres and cleaning up. A Cooperative expedition was formed between the U.S. and Mexican governments. The U. S. government sent General Buell from New Mexico with 550 cavalry, and 100 infantry. General Joaquin Terrasas of Mexico approached from the west with 350 soldiers. As Webb put it, a "seven-league game of hide-and-go seek" resulted. After considerable hide-and-go-seek, Victorio ran deep into Chihuahua. The agreement was that the Americans were allowed to follow into Mexico, but General Terrasas decided officially that he didn't trust the U. S. Army's Apache scouts. According to Ranger Sergeant Jim Gillett, he just didn't want to share the glory. So he sent the U.S. troops and Rangers back to the U.S. and with 450 troops finally cornered Victorio, killing Victorio, 60 warriors, and 18 women and took 68 prisoners with a loss of three killed and 12 wounded.
Just after Apache Chief Victorio was killed Lieutenant Baylor was promoted to Captain. "Captain Neal Coldwell had been named quartermaster of the battalion, his company disbanded, and its letter, A, given to our company," said Gillett.
But just before this happened, a party of 12 warriors deserted with 4 women and 4 children, made their way through the mountains of west Texas, and began attacking small parties of Texans, including a stagecoach in Quitman Canyon, killing the driver and a gambler named Crenshaw. Baylor investigated and began to trail the Apache. The tracking was difficult. It was intensely cold, and the ground was so frozen that the Apache left no track. They lost the trail.
Lieutenant Charles Nevill found the tracks on the west side of Quitman Canyon where it led across the plain from Eagle Springs to Diablo Mountains. They joined up with Baylor's group, and they chased for 5 more days, getting closer and closer. By January 28, 1881, they were within 2 hours of the Apache. On the morning of the 29th the Rangers crossed over the brow of the mountain in the dark to avoid being sighted, and they attacked the Apache camp. The Apache braves ran "like a herd of deer," according to Webb. The Rangers, not being able to tell men from women in the light of dawn, killed 4 warriors, two women, and two children, and wounded many more. "One Indian, whom the Rangers named Big Foot, ran four hundred yards in full view while not less than two hundred shots from Winchesters and Springfields were fired at him."
Lieutenant Nevill took the prisoners to the hospital at Fort Davis. In a war without quarter on either side, apparently they were humanely treated. Among the weapons captured were those of Buffalo Soldiers killed earlier by the Apache along with 6 cavalry saddles. And Gillett recorded "one .40 cal. double-action Colt's."
Eugene Cunningham in "Triggernometry, A Gallery of Gunfighters, writes: "Cunningham says he was an Indian fighter by profession and avocation. Sergeant Gillett, later to become Sheriff of El Paso, is one of the gunfighters profiled. Baylor appears later as a range detective for the Southeast New Mexico Cattlemen's Association at the time of the murder of John Wesley Hardin by John Selman."
The Handbook of Texas says, "In 1882 he was promoted to major and given command of several ranger companies. During this period he was active in the fence-cutting conflict in Nolan County."
Frederick Wilkins, The Law Comes to Texas, The Texas Rangers 1870-1901, writes that Captain Baylor's Company A was disbanded by General Order No. 21, dated March 13, 1885. The constant problem of rangers leaving the company had left it with 10 men at the time, making it easier to disband than some, and the company, under Baylor's leadership, had almost put itself out of business, making it the most likely candidate in time of a severe financial situation.
Baylor did not serve again as a Ranger. He had made his one of the most famous names in the battalion, a man almost too brave and a skilled Indian fighter. Despite some claims he was mainly interested in chasing hostile Indians, the arrest records of Company A attest to the fact that he was also a keen hunter of outlaws.
After resigning from ranger service in 1885 Baylor was elected to the Texas House of Representatives from El Paso and served as clerk of the district and circuit courts for a number of years. He always got along well with his Mexican neighbors, a trait not shared by all Rangers, and lived in Mexico from 1898 until 1913, returning to San Antonio where he died on March 17, 1916. Baylor, Colonel CSA, was buried in the Confederate Cemetery in that city.