Francis Channing Barlow (1834-1896)
Francis Channing Barlow (October 19, 1834 - January 11, 1896) was a lawyer, politician, and Union general during the American Civil War.
Barlow was born in Brooklyn, New York. He studied law at Harvard University, graduated first in his class, and was practicing law on the staff of the New York Tribune newspaper when the Civil War broke out in 1861.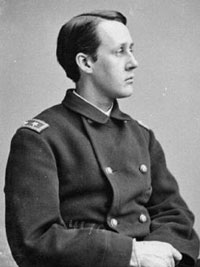 In April, 1861, Barlow enlisted as a private in the 12th New York Militia, but was commissioned a first lieutenant in his first month of service. By November he was a lieutenant colonel in the 61st New York, with which he fought in the Seven Days Battles.
At the Battle of Antietam, commanding the 1st Brigade, 1st Division, II Corps of the Army of the Potomac, he was wounded by an artillery shell in the face and by grapeshot in the groin. Two days later Barlow was promoted to brigadier general of volunteers.
Barlow commanded the 2nd Brigade, 2nd Division, XI Corps at the Battle of Chancellorsville in May, 1863, and was subjected to the devastating flank attack of "Stonewall" Jackson that routed his corps.
In July, he commanded the 1st Division, XI Corps at the Battle of Gettysburg, where he led his division to a defensive position on Blocher's Knoll, which is now known as Barlow's Knoll. Unfortunately, this slight rise in the terrain was too far forward in comparison to the other XI Corps division and Barlow's position formed a salient that could be attacked from multiple sides. Jubal Early's division overwhelmed Barlow's division, causing serious losses and Barlow himself was wounded and left for dead on the field. He was found and cared for by Confederate General John B. Gordon. According to an account written by Gordon in 1901, he allowed Barlow's wife Arabella to enter the Confederate camp to tend to her wounded husband, but this account is deemed apocryphal. The popular story continued that Gordon presumed Barlow had died and that both men met years later, being very surprised each was still alive. An examination of Barlow's subsequent war record makes this story very unlikely.
Barlow recovered and was exchanged in time to assume command of the 1st Division, II Corps at the Battle of the Wilderness.
At the Battle of Spotsylvania Court House his division incorporated shock tactics developed by Col. Emory Upton to quickly assault the rebel entrenchments, effecting a breakthrough that could be exploited by reinforcements. Hand-to-hand fighting ensued for 21 hours, the longest hand-to-hand combat in the entire war, before Barlow's division finally broke through.
He fought at the Battle of Cold Harbor and the Siege of Petersburg in the same command. At Petersburg he took a brief sick leave but returned to command the 2nd Division, II Corps during the Appomattox Campaign.
Arabella Barlow died of typhus in the summer of 1864 while Francis was battling in the Overland Campaign. After the war, Barlow married Ellen Shaw, sister of Robert Gould Shaw.
Leaving the army in November, 1865, Barlow served as a United States Marshal and the secretary of state and attorney general of New York, before he returned to his law practice.
Francis Barlow died in New York City in 1896 and is buried in Brookline, Massachusetts.