William Woods Averell (1832-1900)
William Woods Averell (November 5, 1832 - February 3, 1900) was a U.S. Army cavalry general in the American Civil War.
Averell was born on November 5, 1832, in Cameron, New York. In his youth he worked as a drug clerk in the nearby county seat of Bath. He was appointed to West Point in 1851 and was graduated in four years, ranking in the lower third of his class.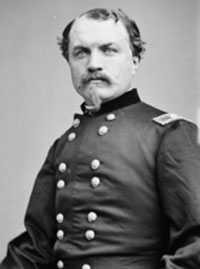 Averell's antebellum army career included garrison duty at Jefferson Barracks, Missouri; a tour at the Cavalry School in Carlisle, Pennsylvania; and two years of rugged service against the southwestern Indians, during which he was severely wounded and invalided from 1859 until the outbreak of the Civil War.
As acting assistant general to General Andrew Porter, Averell took part in the battle of First Manassas and was then commissioned colonel of the 3rd Pennsylvania Cavalry. He participated in the Peninsular campaign as commander of a brigade; in the campaign which culminated at Sharpsburg; at Fredricksburg, in December, 1862; and in various skirmishes of the mounted branch of the Army of the Potomac. His 2nd Cavalry Division won the first claimed victory of the Federal horse over the Confederates at Kelly's Ford, Virginia, in March, 1863—an action said to have been the turning point of cavalry fighting the Eastern theater. Meanwhile he was appointed brigadier general of volunteers on September 26, 1862. After taking part in George Stoneman's famous during the campaign of Chancellorsville, Averell was employed in minor operations in western Virginia until Philip Sheridan's Shenandoah campaign. At the end of the war he was breveted brigadier and major general, U. S. Army.
At the end of the war Averell resigned from the army (May 18, 1865) when peace came and accepted an appointment as U.S. consul general to British North America (1866­1869).
In later life his skill as an inventor of practical devices provided him with a handsome income. He invented a number of devices which rendered him financially independent.
General Averell died and was buried at Bath, New York.