James Patton Anderson (1822-1872)
Born in Franklin County, Tennessee, on February 16, 1822, Anderson grew up in Mississippi. Although he attended college briefly in southwest Pennsylvania, a family financial crisis forced him to withdraw before graduation. He moved to Kentucky, studied law at Montrose Law School, Frankfort, Ky., was admitted to the bar and practiced in Hernando, Miss., from 1842 to 1846.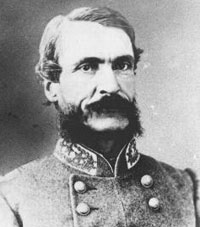 Later, he fought in the Mexican War, commanding the Second Battalion of the Mississippi Rifles, with the rank of Lieutenant-Colonel.
A member of the State house of representatives in 1850, moved to the Washington Territory, where he served as a U.S. marshal in 1853 and settled in Olympia.
He was elected as a Democrat to the 34th Congress (March 4, 1855-March 3, 1857), but was not a candidate for renomination in 1856.
He was appointed Governor of the Territory of Washington by President Buchanan in 1857, but declined the office.
In 1857 he moved to his plantation, "Casabianca," near Monticello, Fla.
He participated in the Florida state secession convention and served in the Provisional Congress of the Confederate States.
When war broke out, Anderson was appointed a colonel, reaching the rank of brigadier general on February 10, 1862. Anderson led his brigade at the Battle of Shiloh, then took command of the Army of Tennessee for the Kentucky Campaign and the Battle of Perryville, without a promotion. At the Battle of Stone's River, Anderson led Col. Edward Walthall's brigade in a successful charge on Federal artillery. During the fighting around Chickamauga and Chattanooga, he held divisional command, and was officially promoted to major general on February 17, 1864.
After being transferred from the Western theater, he was given command of the small Confederate District of Florida.
He was recalled to the Army of Tennessee in July 1864, and served in Georgia, at the Battles of Ezra Church, in small combat at Utoy Creek, and the Battle of Jonesborough. At Jonesborough, he was injured in the chest, and removed from command. Anderson went against doctors' order and joined his troops because of his army's reverses. After fighting in their last battles in the Carolinas, he was surrendered and paroled with his troops at Greensborough, North Carolina, in the spring of 1865.
After the war, Anderson lived in Memphis, Tennessee, unable to work actively because of his war wound. He edited a small agricultural newspaper and died in dignified poverty on September 20, 1872.